Gushagub gro-Shugdurbam
Location
Malabal Tor
Race
Orc
Gender
Male
Health
39959
Reaction
Justice Neutral
Pickpocket
Medium
Profession
Soldier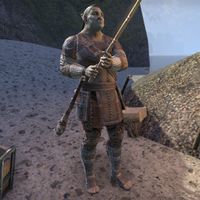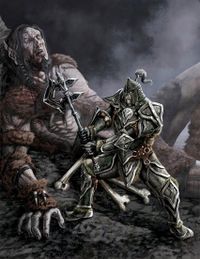 Gushagub gro-Shugdurbam is an Orc soldier who is fishing on a small sandbar in Malabal Tor. He is located on a small, mostly rocky island west of Horseshoe Island and north of the Broken Coast Dolmen. You'll find him if you swim west of the entrance to Tempest Island. Gushagub has no unique dialogue. A backpack, which he owns, is located next to his small wooden seat. There is a bucket with two fish in it to his right (your left, if you're looking at his face from the front).
Gushagub is mentioned in Gathering Force: Arms and Armor of Tamriel. His favorite weapon is a two-handed axe named "Mauloch's Maw", which he does not carry in-game. The book's in-universe author, Longinus Attius, saw Gushagub fell a giant.