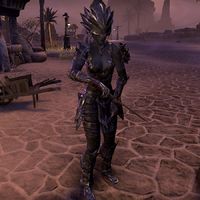 Rayzara is a Dark Seducer spectator in the Maelstrom Arena. She will initially be seen in the desert starting area sharpening her blades, but once the fighting starts she will be teleported to the arena stages and periodically comment on the battle.
Related Quests
Edit
"Demiprince! Make them fight!"
"When does the real fight start?"
"If I'd paid for this, I'd want my money back!"
"What is this, a lovefest?"
"I've seen more fight in a mudcrab!"
"This is going to end in tears—I hope!"