This article could benefit from an image
of:
jpeg, non-transparent (in-game) background
See Help:Images for information on how to upload images. Please remove this template from the page when finished.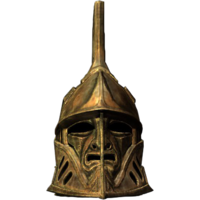 The Visage of Mzund is a unique Dwarven Helmet that is found within a treasure room in the Fahlbtharz Grand Hall. This helmet fortifies your stamina by 60 points, while also adding the lesser power Breath of Nchuak. The Visage of Mzund can be tempered with a Dwarven Metal Ingot, with the Dwarven Smithing perk doubling improvement.
Like regular Dwarven Helmets, the Visage of Mzund is not affected by the Ancient Knowledge ability.