This page or section is incomplete. You can help by adding to it.
For more information, see the help files, the style guide, and this article's talk page.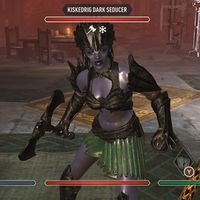 Dark Seducers are an enemy group in Blades that are hostile to the player. Also known as the Mazken, they are a matriarchal race of Daedra.
They are weak to cleaving and frost damage.
Dark Seducer
Kiskengo Dark Seducer
Kiskella Dark Seducer
Kiskedrig Dark Seducer
Grakendo Dark Seducer
Grakella Dark Seducer
Grakedrig Dark Seducer
Autkendo Dark Seducer