This page is currently being redesigned for the Lore Places Project (LPP).
The page may need work to meet the standards outlined on the project page.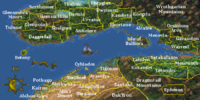 The Yeorth Burrowland was an area near Anticlere in southern High Rock, and was close by two notable sites from the War of Betony, the Ravennian Forest and Cryngaine Field.[1] The burrowland is where the armies of Sentinel encamped after the battle of Reich Gradkeep and before the Battle of Cryngaine Field.[1][2]
The 18th of Morning Star was known as the Waking Day, when the people of the Yeorth Burrowland woke the spirits of nature after the winter, somewhat like their more reverential ancestors, in one of the oldest holidays in High Rock.[3]
References
Edit