Dragon's Treasure Trove
Category
Gallery (Display)
Quality

Legendary

Limit Type
Collectible Furnishings
Bind
Collected
Description
You have claimed a share of the Dragon's Treasure Trove. Place it in your home, and show off your hard-earned riches.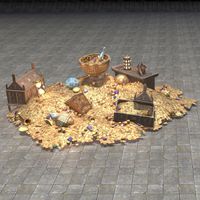 This item can be found in / from the following:
This item was awarded during the Dragon Rise Event which ran from October 3 until October 14, 2019.