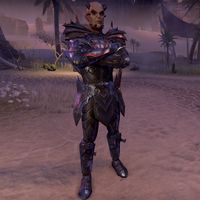 Tuzunkykz is a Dremora spectator in the Maelstrom Arena. He will initially be seen in the desert starting area, but once the fighting starts he will be teleported to the arena stages and periodically comment on the battle.
Related Quests
Edit
"Feast on their hearts!"
"Taste the blood of your enemies!"
"I smell weakness!"
"Go on! Fight!"
"Only one shall survive!"
"What are you waiting for? An invitation?"