Zone
Vvardenfell
Loading Screen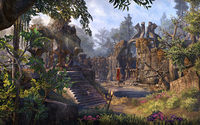 The ruins of Ularradallaku are all that remains of an ancient temple complex devoted to the dread Daedric Prince Mehrunes Dagon.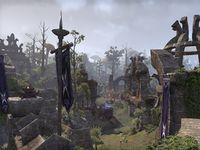 Ularra is an overgrown Daedric ruin and battleground located in the Red Mountain region of Vvardenfell. It is dedicated primarily to Mehrunes Dagon, but a statue to his ally Hircine is found on the Fire Drakes area of the shrine. Ularra is part of the otherwise-inaccessible ruin of Ularradallaku.
This location previously appeared in Morrowind as Ularradallaku, though the climate and size of the ruin is quite different. The exterior is found on the slopes of the mountain.