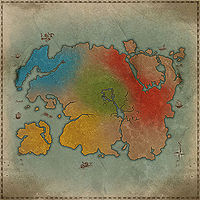 There are a large variety of places in The Elder Scrolls Online spread across Tamriel and beyond. This page lists the most important places sorted by type, as well as a list of zones. See Maps for an overview of the icons used for different types of places, and for other available maps in the game.
Place List
Edit
Places by Gameplay
Edit
Alliance War and Battlegrounds
Edit
Minor Locations
Edit
Neutral and Disputed
Edit
Chapter Zones
Edit
Story DLC Zones
Edit
Unzoned — A listing of places which are not part of any zone or their associated storylines.