Orsinium: Come to the homeland of the Orcs in Tamriel Unlimited's first new PvE quest content DLC! Help King Kurog rebuild the city of Orsinium, and watch its walls and towers rise due to your deeds. Includes new armor, weapons, a solo challenge arena, and more!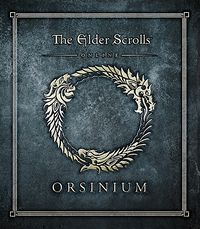 Orsinium introduces the zone of Wrothgar, and focuses on singleplayer PvE content.
The loyalty reward for Orsinium is an Echalette pet. The DLC was also available for purchase as part of the Orsinium DLC Collector's Edition bundle for 050005,000 

. It's included with the Gold Edition of ESO and the Guilds and Glory bundle.