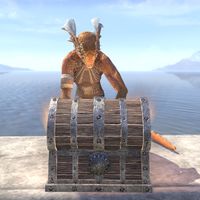 This article is about the in-game store. For the store on the official website, see PC/Mac Store.
The Crown Store is an in-game store which allows for the purchasing of exclusive content, such as items and DLC.

Crowns are the currency required to buy things from the store, and can be purchased separately or obtained by paying for an ESO Plus subscription. There is no way to earn Crowns in-game.
Crowns and Crown Store items cannot be sold or transferred to other accounts.
If you have an account on both megaservers, you will be able to use your Crowns on both servers; however, any items purchased will remain on the server that they were purchased on.
The Crown Store has new items added monthly. The items may have themes: if there is a DLC based on Daedra, for example, then there may be items in the shop that are Daedric-themed. Items in the Crown Store have a "preview" function, so that you can see what an item looks like with your character before purchasing it.
Crown Store Item Categories
Edit
For a list of items, see one of the following links:
The following is a list of all Crown Store Showcase articles published each month on the official site:
| 2023 | 2022 | 2021 | 2020 | 2019 | 2018 | 2017 | 2016 | 2015 |
| --- | --- | --- | --- | --- | --- | --- | --- | --- |
| | | | | | | | | |
Obtaining Crowns
Edit
Crowns can be obtained in the following ways:
Direct purchase
Edit
Purchased on the store:

750 for $7.99 USD
1500 for $14.99 USD

For the same amount of money, you can instead purchase 1 month of ESO Plus and get 1650 crowns.

3000 for $24.99 USD
5500 for $39.99 USD
14000 for $99.99 USD
21000 for $149.99 USD

This isn't any more efficient than buying 14k for 100 dollars, but costs you more upfront.
By having an ESO Plus subscription, 1650 crowns per month are given at the start of the subscription period.
500 Crowns are given to all accounts with a copy of the game, whether they were created prior to or after the addition of the Crown Store.
Winning official contests or attending certain conventions
Rates of Return
Edit
The following table summarizes the rates of return, rounded to hundredths of a crown per dollar. The entries with parentheses are the Crown allotments that come from an ESO+ subscription. In the Crowns column, the table lists the total number of Crowns received and the length of the subscription. In the Cost column, the total cost is listed with the monthly cost in parentheses.
Crown Store Rates of Return

| Crowns | Cost (USD) | Crowns Per Dollar |
| --- | --- | --- |
| 750 | 7.99 | 93.87 |
| 1500 | 14.99 | 100.07 |
| 3000 | 24.99 | 120.05 |
| 5500 | 39.99 | 137.53 |
| 14000 | 99.99 | 140.01 |
| 21000 | 149.99 | 140.01 |
| 1650 (30 Days) | 14.99 (14.99) | 110.07 |
| 4950 (90 Days) | 41.97 (13.99) | 117.94 |
| 9900 (180 Days) | 77.94 (12.99) | 127.02 |
| 19800 (365 Days) | 139.99 (11.67) | 141.44 |
Update 18 introduced gifting to the Crown Store, which allows players to gift Crown Store items to other players directly.
Certain criteria must be met before the ability to gift is unlocked; new players need to become an ESO Plus member or make a Crown Pack purchase and wait 30 days in order to gain the ability to gift. Existing players who have never purchased Crown Packs or ESO Plus must also make a Crown Pack purchase and wait 30 days. Players with an existing history of purchases and ESO Plus membership will have gifting unlocked for them.
The gift recipient has 14 days to accept or decline the gift. If they decline then it returned to the original sender who is unable to make use of it themselves, although they can resend it or send it to a different player. "Instant unlock and account upgrade, skill lines and other account-specific" items like Bag Space Upgrades, Skill Line Advancements and Curse of Vampirism are not able to be gifted at this time. Player housing is able to be gifted.
Gifting Crown Store items was disabled for all platforms on September 1, 2023. [1], but was then re-enabled in October, 2023 [2].
Senders can write a personal message or choose from a small selection of preset messages, listed below:
Preset messages
Thanks for having my back, fellow adventurer!
This one hopes you will enjoy this sleek gift!
I erect the spine of friendship and present you with this gift!
May this gift serve you and your house, Sera!
Please accept this gift with honor. Long life and harmony to you!
Please accept this gift in Y'ffre's name, my friend.
A gift for you, and a wish for a long and prosperous life!
Use this gift in good health, blood of my blood!
Likewise, those who receive gifts can do the same with thank-you messages, the presets of which are listed below:
Preset messages
Thank you for the unexpected gift, my friend!
Many thanks, my five-clawed friend! Bright moons light your path!
Thanks beyond measure, my fine f'lah!
By bark and birth, your kindness is appreciated, Hist-friend!
Fortune favors me with a friend such as you. Walk in radiance.
Many thanks, and may Auriel protect you!
May the Eight protect and reward you for your kindness.
By Shor's Bones, you honor me greatly!
On Xbox One the Crown Store can be used to buy ESO Plus subscription time from the Xbox Marketplace. PS4 ESO Plus subscriptions must be bought through the PlayStation Store.
A "Pay to Lose" category was added to the Crown Store for April Fools' Day 2017, as a reference to the "Pay to Win" trope often associated with subscription-free MMO games which gain revenue through a cash shop. It contained a level 1 broom two-handed weapon and a level 1 bucket heavy helmet.
Lore snippets taken from the Crown Store Showcase series can be read here.
Anyone with an existing account at the time of the change to Tamriel Unlimited - whether with an active subscription or not - was given 100 crowns for every month that they had been subscribed.
Anyone with an active subscription at the time of the change to Tamriel Unlimited was given 1500 crowns per month remaining (with 0-30 days counting as 1 month, 30-60 counting as 2 months, and so forth).
Players who originally created an ESO account with ZeniMax but later switched to the Japanese version lost all remaining Crowns upon making the transition to DMM.