Clockwork City: Enter the mechanical world of the Clockwork City and explore Sotha Sil's greatest creation.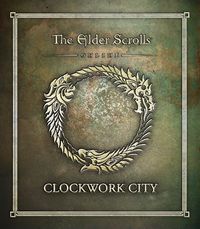 Clockwork City introduces Sotha Sil's eponymous realm of mechanical wonderment in all its glory, which is being invaded by shadowy Daedric forces. The DLC was also available for purchase as part of the Clockwork City Collector's Bundle for 040004,000 

.
The loyalty reward for Clockwork City is the Scintillant Dovah-Fly non-combat pet.
Discounts
Edit