Dragonhold: The Season of the Dragon saga concludes with Dragonhold. Defend the people of Southern Elsweyr, restore the ancient Dragonguard order, and fight back against the Dragon menace. Your year-long adventure comes to its exciting finale here!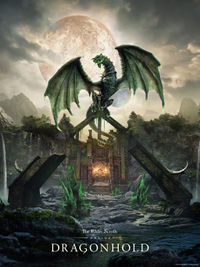 Dragonhold contains the new zone of Southern Elsweyr, and concludes the year-long Season of the Dragon saga that started with Wrathstone DLC. Dragonhold is also available for purchase as part of the Dragonhold Collector's Bundle for 040004,000 

.
The loyalty reward for Dragonhold is the Topal Corsair Hat Outfit Style.
Southern Elsweyr, a new zone which consists of three unique biomes.
Meet Khajiiti pirates, fight the New Moon cultists and restore an ancient order of the Dragonguard.
New quests, including a questline that ties up the Season of the Dragon.
Two new delves, group bosses, and Dragon Hunts featuring new dragons.
New armor sets, styles, furnishing items, and various collectibles such as the Pirate title.