This page has had only minimal human input, containing primarily bot-generated or templated information.
If you have any information about this article, please feel free to start filling in this page.
Once a basic description has been added, this template should be removed.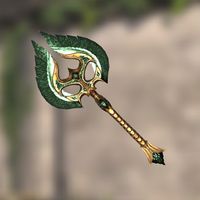 Glass War Axe (Needs ID)
(non-divine page)
Type
Versatile Cleaving Weapon
Material
Dragonbone
Quality

Rare

Player Level 45
Statistics
132 /

151.8

(?)

115.5

243.75

51
6,743
Description
This weapon is imbued with the power of the higher planes, making it as strong as those made of dragon bones.