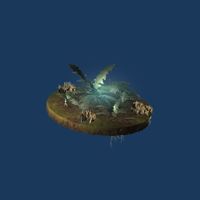 Nirnroot (Small_Nirnroot)
(lore page)
Type
Decoration
Size
Small
Quality

Rare

Statistics
Prestige

+150

150
4,920
Description
Nirnroot grows along water, makes an unusual chiming noise as you get closer to it, and its magical properties have fascinated alchemists for centuries.
Nirnroot is a small, rare quality decoration that can be bought from the store.
A free Nirnroot was given to players starting on the 25th of March 2021 as part of the two year anniversary of Blades.