The Shadow Wood
Type
Plane
Realm
Mundus
Appears in
ESO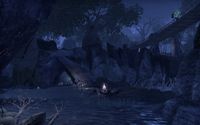 The Shadow Wood was a parallel version of the Valenwood, a realm of darkness and evil. It was a mirror image of the Valenwood, but lay in perpetual darkness, inhabited by shades and corrupted nature spirits.[1][2]
Following the death of Prince Naemon in 2E 582, his corpse was stolen by the remnants of the Veiled Heritance led by Vicereeve Pelidil. Using the power of the Staff of Magnus, Pelidil returned Naemon from the dead as a lich to lead armies of undead and unleash corruption in Greenshade.[3] The Shade of Naemon set about creating a new realm, the Shadow Wood, by corrupting the forests of Greenshade. He planned to transform all of Valenwood in this manner, supplanting it with the Shadow Wood.[4] Naemon envisioned that the Shadow Wood would ultimately consume all of Tamriel.[5]
Naemon allied himself with the bound spirits of Bosmer who were executed for violating the Green Pact; many agreed to side with him, believing that they would be restored to life to inhabit the Shadow Wood.[4] However, many spirits became unwillingly trapped within the Shadow Wood.[6]
The future Silvenar Indaenir began investigating Naemon's corrupting influence following the latter's attack on the city of Marbruk. Sensing that the Green was calling out for vengeance, Indaenir investigated several sites in the Green's Marrow region of Greenshade. Using his connection to the Green, Indaenir cleansed these sites with the aid of the Vestige. He entered sections of the Shadow Wood on several occasions, revealing Naemon's plan for the Valenwood and destroying these pockets in the process. Indaenir ultimately determined that the only way to destroy the Shadow Wood was to confront the Shade of Naemon and destroy him.[1]
Together with his Aldmeri Dominion allies, Indaenir confronted Naemon at the Ayleid ruins of Hectahame. There, it was revealed that Naemon had used the Staff of Magnus to corrupt the Heart of Valenwood, a tree found deep within the ruins and through which the metaphorical lifeblood of Valenwood flows.[7][3] With the help of the Vestige, Indaenir defeated the lich, but the Heart had already been corrupted and was spreading its darkness throughout Valenwood. In a desperate attempt to reverse the damage, Indaenir invoked the power of Y'ffre to cleanse the Heart and save the Valenwood, losing his life in the process. However, the Green reached out to him in death and restored him to life as the new Silvenar, chosen by Y'ffre.[3][1]
References
Edit