Stoneflower Petals


ingred_stoneflower_petals_01

1
0.1
Alchemy Effects
1st
 Restore Strength
2nd
 Fortify Magicka
3rd
 Drain Luck
4th
 Fortify Personality
Sources
# Samples
23
Plant
Stoneflower
 %
90
# Plants
644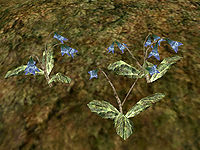 "Stoneflower petals are collected from a small common blue flower of the Ascadian Isles and Azura's Coast."
Stoneflower Petals can be commonly found in large numbers in the West Gash, and more sparsely in most other arable land. Ajira at the Balmora Mages Guild will ask you to find her a sample during the Four Types of Flowers quest.
Combinations
Edit
Locations
Edit
The following vendors carry a restocking supply:
Greatest number of plants:

West Gash Region, [-7,15] (32 Plants)
West Gash Region, [-9,7] (32 Plants)
West Gash Region, [-7,13] (25 Plants)
West Gash Region, [-8,9] (25 Plants)
West Gash Region, [-1,2] (24 Plants)
West Gash Region, [-6,12] (24 Plants)
West Gash Region, [-6,8] (24 Plants)
West Gash Region, [-8,15] (20 Plants)
West Gash Region, [-1,1] (18 Plants)
West Gash Region, [-2,3] (18 Plants)
West Gash Region, [-3,4] (18 Plants)
West Gash Region, [-6,11] (16 Plants)
West Gash Region, [-9,8] (16 Plants)
West Gash Region, [-1,-1] (15 Plants)
West Gash Region, [-9,14] (13 Plants)
West Gash Region, [-1,3] (12 Plants)
West Gash Region, [-3,2] (12 Plants)
West Gash Region, [-6,7] (12 Plants)
West Gash Region, [-8,10] (12 Plants)
Azura's Coast Region, [16,-8] (9 Plants)
Azura's Coast Region, [19,-7] (8 Plants)
Grazelands Region, [8,14] (8 Plants)
West Gash Region, [-8,11] (8 Plants)
Azura's Coast Region, [10,16] (7 Plants)
West Gash Region, [-7,6] (7 Plants)
West Gash Region, [-8,8] (7 Plants)
Bitter Coast Region, [-5,-3] (6 Plants)
West Gash Region, [-1,0] (6 Plants)
West Gash Region, [-2,1] (6 Plants)
West Gash Region, [-2,0] (6 Plants)
West Gash Region, [-4,4] (6 Plants)
West Gash Region, [-6,4] (6 Plants)
West Gash Region, [-10,14] (6 Plants)
Grazelands Region, [10,10] (5 Plants)
West Gash Region, [-8,14] (5 Plants)
West Gash Region, [-9,13] (5 Plants)
West Gash Region, [-13,11] (5 Plants)

Loose samples: