Saltrice


ingred_saltrice_01

1
0.1
Alchemy Effects
1st
 Restore Fatigue
2nd
 Fortify Magicka
3rd
 Drain Strength
4th
 Restore Health
Sources
# Samples
3699
Plant
Saltrice
 %
90
# Plants
816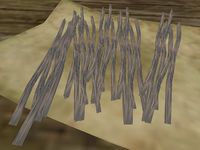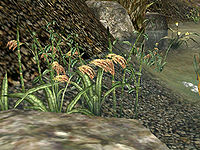 "Saltrice is another of the tasty and nutritious foodstuffs with modest magical properties raised as export crops by Morrowind's farmers and plantation owners. Most saltrice seen in the Empire comes from southeastern Morrowind, but there are also some new and prospering farms and plantations in the Ascadian Isles. Saltrice also grows wild in the Grazelands and on Azura's Coast."
Combinations
Edit
2 Effects
Edit
| Desired Effect | Combine with: |
| --- | --- |
|  Restore Fatigue | Bread, Chokeweed, Crab Meat, Hackle-Lo Leaf, Hound Meat, Large Kwama Egg, Scrib Jerky, Scuttle, Small Kwama Egg |
|  Fortify Magicka | Belladonna Berries, Stoneflower Petals |
|  Drain Strength | Black Lichen, Bungler's Bane, Ectoplasm, Green Lichen, Heartwood, Raw Glass, Scathecraw, Spore Pod |
|  Restore Health | Corkbulb Root, Corprus Weepings, Marshmerrow, Raw Stalhrim, Resin, Sweetpulp, Wickwheat |
Locations
Edit
Saltrice is a very common ingredient which grows near water all along Vvardenfell's shores. It is also frequently seen as a food item in people's houses and in taverns and inns. Large quantities can easily be found in sacks, barrels, and crates in food larders everywhere. Saltrice is a very useful ingredient in home-made Potions of Restore Health and Fatigue.
The following vendors carry a restocking supply:
Greatest number of plants:
Azura's Coast Region, [12,-9] (28)
Ascadian Isles Region, [1,-7] (21)
Ascadian Isles Region, [5,-8] (21)
Azura's Coast Region, [13,12] (21)
Azura's Coast Region, [14,-10] (21)
Ascadian Isles Region, [4,-8] (19)
Grazelands Region, [12,13] (19)
Grazelands Region, [13,7] (18)
Azura's Coast Region, [13,11] (17)
Ascadian Isles Region, [2,-6] (16)
Ascadian Isles Region, [3,-6] (16)
Azura's Coast Region, [16,-8] (16)
Azura's Coast Region, [14,8] (15)
Azura's Coast Region, [14,10] (15)
Azura's Coast Region, [15,8] (15)
Grazelands Region, [11,5] (15)
Ascadian Isles Region, [2,-5] (14)
West Gash Region, [-14,14] (14)
Azura's Coast Region, [14,-11] (13)
Grazelands Region, [12,6] (13)

Ascadian Isles Region, [9,-12] (12)
Azura's Coast Region, [12,-11] (12)
Azura's Coast Region, [14,-9] (12)
Azura's Coast Region, [15,2] (12)
Azura's Coast Region, [12,-10] (11)
Azura's Coast Region, [13,4] (11)
Grazelands Region, [11,6] (11)
Grazelands Region, [12,7] (9)
Ascadian Isles Region, [2,-7] (9)
Azura's Coast Region, [9,17] (9)
Azura's Coast Region, [13,13] (9)
Sheogorad Region, [-1,21] (9)
Ascadian Isles Region, [4,-7] (8)
Ascadian Isles Region, [8,-11] (8)
Azura's Coast Region, [8,-10] (8)
Azura's Coast Region, [10,-11] (8)
Azura's Coast Region, [11,-10] (8)
Azura's Coast Region, [13,3] (8)
Azura's Coast Region, [13,10] (8)
Azura's Coast Region, [14,2] (8)

Azura's Coast Region, [15,-12] (8)
Azura's Coast Region, [15,-10] (8)
Azura's Coast Region, [16,-6] (8)
Azura's Coast Region, [16,7] (8)
Azura's Coast Region, [17,-4] (8)
West Gash Region, [-14,13] (8)
Azura's Coast Region, [9,19] (7)
Azura's Coast Region, [13,5] (7)
Azura's Coast Region, [13,15] (7)
Azura's Coast Region, [14,3] (7)
Azura's Coast Region, [15,-11] (7)
Azura's Coast Region, [15,10] (7)
Azura's Coast Region, [18,-2] (7)
Ascadian Isles Region, [4,-5] (6)
Ascadian Isles Region, [5,-6] (5)
Azura's Coast Region, [16,2] (6)
Azura's Coast Region, [17,-1] (6)
Azura's Coast Region, [19,-8] (6)
Azura's Coast Region, [19,-5] (6)
Grazelands Region, [13,8] (6)