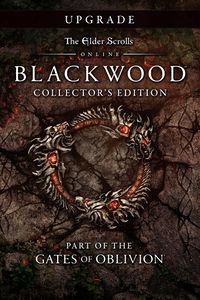 The Collector's Edition of The Elder Scrolls Online: Blackwood includes additional exclusive content. There is no physical collector's edition for this chapter; only a digital collector's edition.
There are two variations of Blackwood that you can purchase:
The Collection — Includes the base game and ALL previous Chapters (Morrowind, Summerset, Elsweyr, and Greymoor) in addition to Blackwood. The Collection is ideal for new players who don't own ESO, or who have ESO, but don't own the other chapters.
The Upgrade — Includes the Blackwood Chapter exclusively. The Upgrade is ideal for players who own the base game and some (or all) of the previous chapters.
The Collection is more expensive than the Upgrade because it contains all of the other chapters. Aside from the base game and the previous chapters, the Collection does not contain more Blackwood Collector's Edition bonuses than the Upgrade. If you purchase the Upgrade, you'll still be getting the exact same Collector's Edition content you'd be getting with the Collection. The only thing different about the Collection is that it comes with the base game and the previous chapters.
The Collector's Edition unlocks the following exclusive digital content:
The following pre-order bonuses are also included in the Collector's Edition:
The Collector's Edition is available from retail and through the PC/Mac Store, Steam, and the Xbox Store. You will receive the Nagahide Welwa Ravager and Nightmare Bear Cub immediately after you pre-purchase the Blackwood Collector's Edition.
†
The Nightmare Bear Cub pet is only available to those who pre-order the Blackwood Collector's Edition before March 17th, 2021