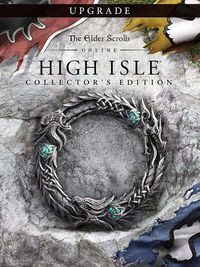 The High Isle Collector's Edition of The Elder Scrolls Online: High Isle includes additional exclusive content. There is no physical collector's edition for this chapter;Is there? Might be a statue somewhere only a digital collector's edition.
There are two variations of High Isle that you can purchase:
The Collection — Includes the base game and ALL previous Chapters (Morrowind, Summerset, Elsweyr, Greymoor, and Blackwood) in addition to High Isle. The Collection is ideal for new players who don't own ESO, or who have ESO, but don't own the other chapters.
The Upgrade — Includes the High Isle Chapter exclusively. The Upgrade is ideal for players who own the base game and some (or all) of the previous chapters.
The Collection is more expensive than the Upgrade because it contains all of the other chapters. Aside from the base game and the previous chapters, the Collection does not contain more High Isle Collector's Edition bonuses than the Upgrade. If you purchase the Upgrade, you'll still be getting the exact same Collector's Edition content you'd be getting with the Collection. The only thing different about the Collection is that it comes with the base game and the previous chapters.
LEGACY OF THE BRETONS - A brand-new Elder Scrolls adventure! Uncover an epic storytelling experience told across three DLCs and the High Isle Chapter. A tale of chivalric honor and political upheaval awaits.
IDYLLIC ISLAND PARADISE - Discover a Breton land never-before-seen in The Elder Scrolls. Traverse stunning white cliffs, majestic castles, and tournament fields as you encounter a gallant knightly culture.
A SHADOW CONSPIRACY - The Ascendant Lord and his secret knightly order threaten to disrupt peace talks for the ongoing Three Banners War - condemning Tamriel to endless conflict.
NEW CARD GAME - A new way to unwind in ESO! Grab a tankard of mead and bring your best decks to a match of the brand-new strategy card game, Tales of Tribute. Compete with friends or test your mettle against NPCs in this deck-building game invented on High Isle.
NEW COMPANIONS & MORE - Explore High Isle with new adventuring buddies. Group up with friends to tackle exciting new world events, a brand-new 12-player trial and more.
The Collector's Edition unlocks the following exclusive digital content:
The following pre-order bonuses are also included in the Collector's Edition:
The Collector's Edition is available from retail and through the PC/Mac Store, Steam, and the Xbox Store. You would receive the Palefrost Elk mount and Palefrost Elk Fawn immediately after you pre-purchased the Collector's Edition, while the rest of the items were received in Update 34.
†
The Palefrost Elk Fawn pet was only available to those who pre-order the High Isle Collector's Edition before April 4th, 2022