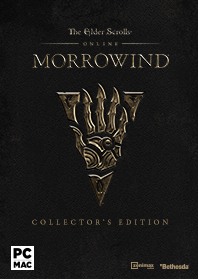 The Collector's Edition of The Elder Scrolls Online: Morrowind included additional exclusive content.
The physical version, only available by pre-ordering in retail, came with:
A copy of the base game.
The Morrowind Chapter.
A steelbook case.
A map of Vvardenfell.
A copy of Naryu's Journal.
A 12" Dwarven Colossus statue.
Both the physical and digital Collector's Editions unlocked the following exclusive digital content:
The Collector's Edition can no longer be purchased, although the above digital content is available in the Morrowind Collector's Pack released alongside Update 18.
†
Before the release of the Outfit System, this perk was Morag Tong Conversion: the ability to convert most pieces of armor and weapons to the Morag Tong Style.