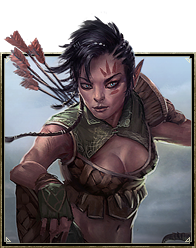 The Wood Elves, or Bosmer, are mischievous, curious and nimble. Because their homeland of Valenwood is often attacked by the Colovian Imperials, Wood Elves are experts at the art of defense. They are also gifted archers, perhaps the best in all of Tamriel. The capital of the Aldmeri Dominion, Elden Root, lies in the heart of their homeland. It has evolved into a center of political and cultural importance and is of vital strategic importance in the battle to control Tamriel.
For more information, see the main lore article.
A list of all the Bosmer encountered in ESO can be found here.
In-Game Description
Edit
The diversified racial skills of the Wood Elves reflect their woodland affinity. Improved archery, base stamina, stamina recovery, stealth detection, movement speed, reduced fall damage, and poison resistance make them dangerous foes and gifted hunters.
Skill Perks
Edit
Bosmer have an associated skill line that complements their lore-based abilities with a focus on improved stamina pool and regeneration and their stealth based abilities. Abilities are listed below.
Notes
The numbers displayed here are the base values for the skills. Magicka/Stamina Cost is based on a character of Level 50

 

160. Damage values are based on Max Magicka/Stamina 12000, Max Health 16000, and Weapon/Spell Damage 1000. The actual numbers you see in the game may depend on a variety of factors, including skill line rank, your equipped weapons and armor, other skills, enchantments, etc. As such, they should only be used as a comparative reference.
Passive Abilities
Edit