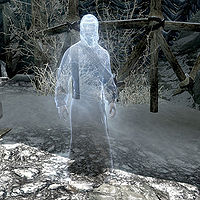 Prelate Edhelbor can be found next to the Wayshrine of Radiance in the Forgotten Vale.
He wears monk robes along with a pair of boots. He carries an elven dagger.
Related Quests
Edit
Quest-Related Events
Edit
Touching the Sky
Edit
He will greet you with:
"You've found the Wayshrine of Radiance, Initiate. Are you prepared to honor the mantras of Auri-El and fill your vessel with His enlightenment?"
Yes.
"May the blessings of Auri-El protect you as you climb the road to the Inner Sanctum and final enlightenment."
He will occasionally bless you with:
"May Auri-El's radiance fill your heart with joy."