Featured images follow the same nomination process as for Featured Articles, but as they appear in a different section of the main page, a separate series of votes is held to decide which images meet the required standard.
For an image to be eligible for Featured status, it must be used in a UESP article. This is to prevent specially-taken beauty shots from stealing the limelight.
A gallery of older Featured Images can be found here. Similarly, the archives of previous nominations can be found here. Note that not all failed nominations are included.
Featured Image Process
Edit
Nomination
Edit
Any registered member can nominate any image at any time. Nominated images should be of high quality and meet the site's image standards.
To nominate an image, list it on the bottom of this page with a three-tier heading, (===Example===), and briefly explain why you think the image should be given featured status.
Example:
After an image has been nominated, any registered member can vote to support or oppose each nomination. Each member can only vote once for a given image, but a member may change his/her vote by striking out the original vote and replacing it with the revised vote.
To vote on an image, state whether you support or oppose the image for featured image status. A vote should be in bold, and all votes must be signed. For example:
* '''Support''': <Comment> --~~~~ or
* '''Oppose''': <Comment> --~~~~
Commenting with your vote is optional, but if you oppose a nomination, please state how the image must be improved to get your support for featured status.
If you are not yet ready to vote but would still like to add your thoughts, you may use:
* '''Comment''': <Comment> --~~~~ or
* '''Question''': <Question> --~~~~
And fill in your concerns or questions.
Decisions
Edit
UESP Administrators will periodically make decisions on image nominations. Decisions will only be made if:
The image has been nominated for more than seven days.
Five or more votes have been placed.
Nominations not meeting these criteria will be left open until a decision can be reached.
Images whose nominations pass will receive featured image status on the front page for two weeks (which may be extended up to one month if there is a shortage of images), and receive a small bronze star (

) on the top right corner. If an image achieves featured status before the present featured image's time expires, it must wait its turn.
Current Featured Image
Edit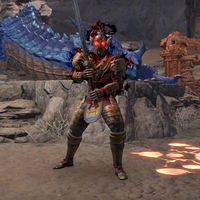 Nominations and Votes

Edit
What a fantastic action shot. No UI elements mid-combat in what must have been a difficult moment to capture.
Have I ever publicly commended The Rim of the Sky for his photography skills? Because I should commend The Rim of the Sky for his photography skills. I can't tell you how many iconic shots I've seen on the UESP that he's taken.
The drama, the intrigue, the danger... it's all captured in a wonderfully centered shot. A bit red, but what can you do? There's a sea of innocent blood in the sewers beneath the Temple.
This image is pretty simple yet cute, and the Alfiq is framed nicely within the shot itself, showcasing the cultural clothing of a Khajiiti clan mother.
I am once again petitioning for your attention: please focus it on this. Why I like this image: big Dragon go "swoosh". Thank you.
Because I cannot be stopped, I will be nominating more images. The framing on this shot is spectacular; I always stop to look at it whenever I pass it by.
Dark Anchors are incredible focal points, and the Imperial City is not immune to that fact. Your eyes are drawn to the bright light imposed upon the dark frame, then down the neck of the Tower towards the devastation below. I think one way this could be improved is by taking a similar shot in another district, particularly one where Daedric Titans are visibly circling the Tower.
I'm surprised no one has nominated this image yet. The NPC is in an interesting pose and takes up most of the frame, and the image isn't too dark. This exceeds the expectations for a good NPC image.
A delicious feast in stunning HD. I love the soft lighting in this shot, it really shows off some of Skyrim's new Fishing content.
A Draugr Deathlord, a prominent boss monster in the game, unleashing the Thu'um. Well-lit, and expertly timed. The blood on the axe is a cherry on top.
One of my favorite scenic locations in Morrowind. This shot captures it perfectly.
A lovely image of a mount. High res, no rider, and complementary colours.
Nothing striking but this is a clear, well-lit NPC screenshot for Skyrim AE with a scenic background. Great to see this kind of quality still present in an older namespace.