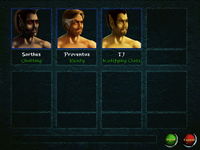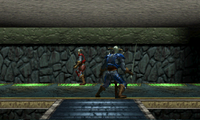 Battlespire features three multiplayer modes: Deathmatch, Cooperative, and Team vs. Team. Each map from single player mode is available for any of these three modes, with a total of ten additional maps available for various games.
Team vs. Team has two teams, and their default names are "The Blue Guys" and "The Red Guys". You can change the team names prior to the start of the game by clicking on them and typing a new name.
The multiplayer feature relies on software which is no longer supported; for details on how to emulate the content, see this guide.
Multiplayer Levels
Edit
Deathmatch
Edit
Cooperative
Edit
Note: these maps are also available for Deathmatch and Team vs. Team play
Team vs. Team
Edit
The Steam version of Battlespire does not include multiplayer.