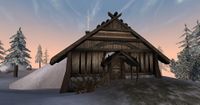 Lassnr's House is a medium-sized house in the Skaal Village belonging to Lassnr, who can be found residing inside. The house itself is found in the western section of the village, next to the Shaman's Hut and Ice-Mane's Hut.
Related Quests
Edit
On the right of the entrance, there's a table with the book Hanin's Wake, a Parchment with Scrawlings, a ghoul heart, a daedra's heart, a sample of the extremely rare wolfsbane petals, and a journeyman's mortar and pestle. Under the table, there's an exclusive fortify intelligence potion and above the table on a shelf, there's a sample of human flesh.
In the back right corner from the entrance, there's a few bedrolls, a fireplace, and a cupboard that contains common clothing such as a pair of Nordic pants, a wool shirt, a Nordic shirt, and a left Nordic glove. The book The Doors of the Spirit rests on the floor next to the bedrolls.
In the back left corner from the entrance, there's a set of shelves with Mazte, an iron candlestick, and a jug on the top shelf. The middle shelf has two flagons of Nord Mead on it, alongside two plates and a metal pitcher. On the bottom shelf, the books Corpse Preparation v I, The Book of Daedra, and Poison Song II can be found. Next to the shelves there's a basket that contains shears and five skulls. On the floor around the shelf, a fork, and the book Blasphemous Revenants can be found.
The only other item of note is a scroll of bloodfire on a support beam in the back of the house.