Ghoul Heart


ingred_ghoul_heart_01

150
0.5
Alchemy Effects
1st
 Paralyze
2nd
 Cure Poison
3rd
 Fortify Attack
Sources
# Samples
22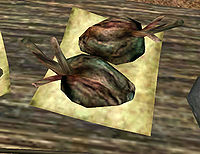 "The substance called ghoul heart is heart tissue collected from the remains of an ash ghoul."
Ghoul Hearts are incredibly rare, since there are no ghouls in Morrowind (contrary to the in-game description, they cannot be found on Ash Ghouls). They can only be found in a few locations or purchased from vendors.
This bug is fixed by the Morrowind Patch Project. As of version 1.6.4, Ghoul Hearts are indeed dropped by Ash Ghouls.
In addition to their rarity, Ghoul Hearts are also the only ingredient in vanilla Morrowind with a Fortify Attack effect. The Tribunal expansion adds one other ingredient with that effect.
The following vendors keep a restocking supply:
Loose samples can be found in the following locations: