This page or section is incomplete. You can help by adding to it.
Missing charge / cost data
For more information, see the help files, the style guide, and this article's talk page.
Artifact: Spear of the Hunter

(BM_hunterspear_unique)


(lore page)
Type
Spear
 Damage
Chop
12−15
Slash
12−15
Thrust
40-60
Ratio
60

(64 w/ spell)

Statistics
 Health
2,000
Speed
1.0
Reach
1.8
 Weight
25
 Value
25,000
Enchantment

Cast When Strikes
 Paralyze for 10sec on Touch
 Burden 50pts for 10 seconds on Touch
 Poison 4pts for 5sec on Touch

Charge/Cost = Uses
540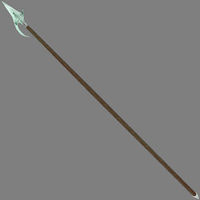 The Spear of the Hunter is a weapon associated with Hircine. It can only be obtained if you defeat the Hircine's Aspect of Guile at the end of the Bloodmoon Main Quest. See the Hircine's Hunt quest for more information. It is the best spear in the game, including both the Bloodmoon and Tribunal expansions.