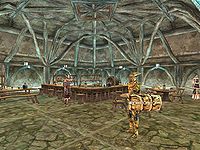 Entertainers is a plugin that adds the option to entertain the patrons of the Eight Plates in Balmora for Dulnea Ralaal. You can perform a variety of tricks to receive a small cash reward.
Official Summary
Edit
"Speak with Dulnea Ralaal in Balmora, Eight Plates on the topic "entertain the patrons". She will give you options to tell jokes, dance the high-kick, play the drum, play the lute and sing, or juggle." —Official Summary
Entertaining the Patrons
Edit
Dulnea Ralaal at the Eight Plates in Balmora will hire you as an entertainer, giving you option to tell jokes, dance the handy high-kick, play the drum, play the lute and sing, or juggle. To do the task successfully, you must have the appropriate skills and items. For instance, to successfully play the lute and sing, you need to have a lute with you and a high speechcraft skill. If you do a good enough job with any of these tasks, she will reward you with up to 100 gold. Entertaining will also affect your Disposition with the patrons (and not always for the better if you lack the skills). You can only entertain the patrons once a day.
When you speak with Dulnea, you will be given one of the 7 options, listed below:
Tell a few jokes
Edit
There are four factors involved in telling good jokes.
Dance the handy high-kick
Edit
You'll need three things to perform this traditional Dunmer dance.
Acrobatics — You've got to be light on your feet.
Athletics — The handy high-kick is a tiring dance, so it helps to be fit.
A Bonemold Shield — Wait, you didn't know that the dance simply has to be done on a Bonemold Shield? That's the most important part! Any style of Bonemold Shield will do, including guard shields, and even enchanted ones — but only if they're already enchanted. You cannot use a shield you enchanted yourself.
Play the drum
Edit
Three factors determine your prowess as a drummer.
Speed — Audiences are always blown away by a lightning fast drum-solo.
Agility — But you've also got to have some skill — just being fast won't do it.
Drums — The more the better. Regular Drums or Guarskin Drums will work just as well. Try to have at least four of them for the best reaction.
Play the lute and sing
Edit
You'll need five things to succeed as a singer.
There are three juggling acts you can perform. You'll either need 3 Small Kwama Eggs, 4 Large Kwama Eggs, or 5 Ceramic Bowls. Whichever you choose, you'll need to have some pretty respectable Agility, unless you want to make a real mess.