Luminous Russula


ingred_russula_01

1
0.2
Alchemy Effects
1st
 Water Breathing
2nd
 Drain Fatigue
3rd
 Poison
Sources
# Samples
15
Plant
Luminous Russula
 %
90
# Plants
982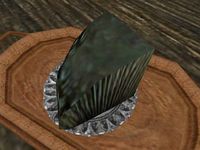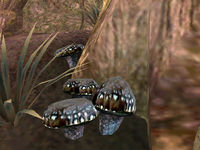 "Luminous russula is a squat, mottled-brown-and-green toadstool mushroom of the Bitter Coast region with modest magical properties."
Luminous Russula is a common fungus that grows in great numbers in the Bitter Coast region, as well as in some caves and mines. True to its name, these mushrooms give off a glow which can be seen from a good distance in the dark. The live plants actually illuminate the area around them, though harvested samples can still be placed on the ground as markers in dark areas.
Another good use for Luminous Russula is as a quick source of air when swimming for long distances. Water Breathing is its first effect, which means you do not need to make a potion to benefit from it. Simply eating a Luminous Russula raw will instantly refill your breath meter, allowing you to continue swimming for a long time without drowning.
Ajira at the Balmora Mages Guild will ask you for a sample of this during the Four Types of Mushrooms quest.
Luminous Russula is one of only two ingredients in vanilla Morrowind which can be used to create Poison potions (not counting the rare Poison), the other ingredient being Violet Coprinus. The Tribunal expansion adds three other ingredients with a Poison effect.
Combinations
Edit
2 Effects
Edit
Desired Effect
Combine with:

 

 Water Breathing
Hackle-Lo Leaf, Pearl

 

 Drain Fatigue
Bear Pelt, Bonemeal, Comberry, Corprus Weepings, Corprusmeat, Guar Hide, Hypha Facia, Kagouti Hide, Marshmerrow, Shalk Resin, Snow Bear Pelt, Snow Wolf Pelt, Spore Pod, Violet Coprinus, Wolf Pelt

 

 Poison
Adamantium Ore, Lloramor Spines, Noble Sedge Flowers, Poison
Locations
Edit
The following vendors carry a restocking supply:
Greatest number of mushrooms:

Cavern of the Incarnate (29 plants)
Ebonheart, Underground Caves (29 plants)
Koal Cave (27 plants)
Bitter Coast Region, [-1,-11] (24 plants)
Bitter Coast Region, [-3,-9] (23 plants)
Bitter Coast Region, [0,-10] (22 plants)
Vivec, Hlaalu Plaza (21 plants)
Vivec, St. Olms Plaza (20 plants)
Bitter Coast Region, [-3,-10] (17 plants)
Maba-Ilu (16 plants)
Punabi (15 plants)
Vivec, Foreign Quarter Plaza (15 plants)
Vivec, St. Delyn Plaza (15 plants)
Bitter Coast Region, [-4,-9] (14 plants)
Bitter Coast Region, [-7,3] (14 plants)
Vivec, Hlaalu Underworks (14 plants)
Vivec, St. Delyn Underworks (14 plants)
Ashirbadon (13 plants)
Seyda Neen, [-2,-10] (13 plants)
Assu (12 plants)
Bitter Coast Region, [0,-11] (12 plants)
Bitter Coast Region, [-1,-9] (12 plants)
Bitter Coast Region, [-5,3] (12 plants)
Bitter Coast Region, [-5,-1] (12 plants)
Dagoth Ur, Facility Cavern (12 plants)
Ahallaraddon Egg Mine (11 plants)
Bitter Coast Region, [-2,-8] (11 plants)
Bitter Coast Region, [-8,2] (11 plants)
Khartag Point, [-9,4] (11 plants)
Bitter Coast Region, [-5,-4] (10 plants)
Bitter Coast Region, [-5,-9] (10 plants)
Bitter Coast Region, [-7,1] (10 plants)
Bitter Coast Region, [-8,4] (10 plants)
Dun-Ahhe (10 plants)

Loose samples: