Pearl


ingred_pearl_01

100
0.2
Alchemy Effects
1st
 Drain Agility
2nd
 Dispel
3rd
 Water Breathing
4th
 Resist Common Disease
Sources
# Samples
90 (+4 Cursed)
Plant
Kollop
 %
50
# Plants
3327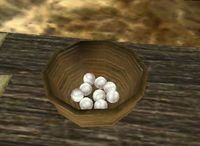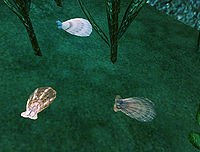 "These smooth, round, lustrous beads are prized for ornamental purposes. The cave

collop 

[sic] and other native Morrowind mollusks only occasionally produce pearls; their scarcity increases their market value."
Pearls are a valuable and common, if somewhat difficult to acquire, ingredient. They can be found inside kollops, which are located on the bottom of most large bodies of water. While kollops may be technically creatures, they are treated just like plants in the game, in that they are immobile and respawn their ingredients over time. A good place to look for them is inside grottos, but they are common on all major coastlines. The difficulty lies in the fact that you need dive quickly to get to them before running out of air, or else use a Water Breathing spell. Another safer, though less reliable place to find them is inside barrels in Dwemer ruins. They can also be found as offerings in Daedric shrines, though you must be careful, as these are sometimes cursed (ID: ingred_Dae_cursed_pearl_01), and will cause a dremora lord to appear behind you when you pick them up.
Combinations
Edit
Desired Effect
Combine with:

 

 Drain Agility
Ash Salts, Black Anther, Daedra's Heart, Diamond, Emerald, Hypha Facia, Raw Ebony, Ruby

 

 Dispel
Bungler's Bane, Moon Sugar, Timsa-Come-By flowers

 

 Water Breathing
Hackle-Lo Leaf, Kwama Cuttle, Luminous Russula

 

 Resist Common Disease
Ash Yam, Bear Pelt, Kagouti Hide, Resin, Snow Bear Pelt, Snow Wolf Pelt, Wolf Pelt
Locations
Edit
The following vendors carry a restocking supply:
Greatest number of Kollops:

Sheogorad Region, [-8,18] (39)
Sheogorad Region, [-5,20] (32)
Sheogorad Region, [-6,19] (29)
Sheogorad Region, [-5,19] (27)
Sheogorad Region, [-5,21] (24)
Sheogorad Region, [-3,25] (24)
Azura's Coast Region, [12,19] (23)
Sheogorad Region, [5,17] (23)
Azura's Coast Region, [12,18] (22)
Azura's Coast Region, [12,17] (21)
Sheogorad Region, [-4,19] (21)
Sheogorad Region, [-3,19] (21)
West Gash Region, [-9,18] (21)
Sheogorad Region, [-5,22] (20)
Sheogorad Region, [3,19] (20)
Sheogorad Region, [4,18] (20)
Sheogorad Region, [7,16] (20)
Sheogorad Region, [-5,23] (19)
Sheogorad Region, [3,18] (19)
West Gash Region, [-13,9] (19)
Akimaes Grotto (18)
Azura's Coast Region, [10,20] (18)
Sheogorad Region, [-3,23] (18)
Sheogorad Region, [-1,24] (18)
Sheogorad Region, [0,24] (18)
Sheogorad Region, [2,23] (18)
Azura's Coast Region, [11,17] (17)
Mul Grotto (17)
Sheogorad Region, [-1,25] (17)
Koal Cave (16)
Madas Grotto (16)
Sheogorad Region, [-4,20] (16)
Sheogorad Region, [-4,23] (16)
Sheogorad Region, [7,18] (16)
Sheogorad Region, [9,21] (16)
Sheogorad Region, [9,22] (16)
West Gash Region, [-11,7] (16)
Azura's Coast Region, [12,16] (15)
Azura's Coast Region, [17,3] (15)
Sheogorad Region, [4,17] (15)
Sheogorad Region, [8,17] (15)
Azura's Coast Region, [13,15] (14)
Azura's Coast Region, [13,16] (14)
Nimawia Grotto (14)
Sheogorad Region, [-3,22] (14)
Sheogorad Region, [-3,24] (14)
Sheogorad Region, [-2,22] (14)
Sheogorad Region, [0,21] (14)
Sheogorad Region, [1,23] (14)
Sheogorad Region, [2,18] (14)
Azura's Coast Region, [10,21] (13)
Azura's Coast Region, [12,15] (13)
Azura's Coast Region, [13,4] (13)
Azura's Coast Region, [16,6] (13)
Eluba-Addon Grotto (13)
Sheogorad Region, [-2,23] (13)
Sheogorad Region, [7,24] (13)
Sheogorad Region, [8,23] (13)
Vassamsi Grotto (13)
Azura's Coast Region, [10,17] (12)
Azura's Coast Region, [16,7] (12)
Azura's Coast Region, [16,9] (12)
Azura's Coast Region, [18,2] (12)
Azura's Coast Region, [18,7] (12)
Azura's Coast Region, [19,-9] (12)
Azura's Coast Region, [19,-1] (12)
Azura's Coast Region, [19,0] (12)
Sheogorad Region, [-7,19] (12)
Sheogorad Region, [-4,24] (12)
Sheogorad Region, [-2,19] (12)
Sheogorad Region, [-1,23] (12)
Sheogorad Region, [0,19] (12)
Sheogorad Region, [0,22] (12)
Sheogorad Region, [1,18] (12)
Sheogorad Region, [4,19] (12)
Sheogorad Region, [4,24] (12)
Sheogorad Region, [5,24] (12)
West Gash Region, [-12,8] (12)
Ascadian Isles Region, [9,-12] (11)
Azura's Coast Region, [9,17] (11)
Azura's Coast Region, [9,18] (11)
Azura's Coast Region, [12,3] (11)
Azura's Coast Region, [12,21] (11)
Azura's Coast Region, [13,12] (11)
Azura's Coast Region, [14,2] (11)
Azura's Coast Region, [14,3] (11)
Azura's Coast Region, [14,6] (11)
Azura's Coast Region, [14,7] (11)
Azura's Coast Region, [15,-13] (11)
Azura's Coast Region, [15,4] (11)
Azura's Coast Region, [15,8] (11)
Azura's Coast Region, [15,12] (11)
Azura's Coast Region, [17,8] (11)
Azura's Coast Region, [18,1] (11)
Azura's Coast Region, [20,-5] (11)
Azura's Coast Region, [20,2] (11)
Azura's Coast Region, [20,3] (11)
Ilanipu Grotto (11)
Malmus Grotto (11)
Sheogorad Region, [-4,22] (11)
Sheogorad Region, [0,20] (11)
Sheogorad Region, [1,20] (11)
Sheogorad Region, [8,24] (11)
West Gash Region, [-10,8] (11)
Zalkin Grotto (11)
Ascadian Isles Region, [4,-13] (10)
Azura's Coast Region, [11,-12] (10)
Azura's Coast Region, [11,18] (10)
Azura's Coast Region, [12,14] (10)
Azura's Coast Region, [13,2] (10)
Azura's Coast Region, [13,17] (10)
Azura's Coast Region, [14,-11] (10)
Azura's Coast Region, [14,5] (10)
Azura's Coast Region, [14,13] (10)
Azura's Coast Region, [14,16] (10)
Azura's Coast Region, [15,9] (10)
Azura's Coast Region, [18,6] (10)
Sheogorad Region, [-2,25] (10)
Sheogorad Region, [1,25] (10)
Sheogorad Region, [2,24] (10)
Sheogorad Region, [7,17] (10)
Sheogorad Region, [8,18] (10)
West Gash Region, [-12,9] (10)
West Gash Region, [-10,7] (10)

Loose samples:

Ald'ruhn, Guild of Mages (9 in 3 Small Chests)
Pelagiad, Fort Pelagiad (6 in 2 Small Chests)
Vivec, Andilu Drothan: Achemist (6 in 2 Small Chests)
Sadrith Mora, Urtiso Faryon: Sorcerer (4)
Ald'ruhn, Temple (3 in Small Chest)
Balmora, Clagius Clanler: Outfitter (3 in Small Chest)
Dren Plantation, Doves' Shack (3 in Small Chest)
Dushariran, Shrine (3)
Gnisis, Madach Tradehouse (3 in Small Chest)
Neglected Shipwreck, Cabin (3 in Small Chest)
Suran, Ibarnadad Assirnarari: Apothecary (3)
Tel Aruhn, Bildren Areleth: Apothecary (3 in Small Chest)
Tel Aruhn, Tower Entry (3)
Vivec, Arena Hidden Area (3 in Small Chest)
Vivec, Guild of Mages (3 in Small Chest)
Ald Velothi, Vireveri Darethran's Shack (2)
Tel Uvirith, Arelas' House (2)
Tel Uvirith, Omavel's House (2)
Ashmelech (1 in Small Chest)
Esutanamus, Shrine (1)
Sadrith Mora, Gateway Inn (1 in Chest)
Sadrith Mora, Gateway Inn: West Wing (1 in Chest)
Tel Branora, Upper Tower, Therana's Chamber (1)
Yasammidan, Shrine (1)

Cursed Pearls: