Thetys Ramarys of Balmora says, "I love our Bitter Coast Striders, but feel bad that they can't fly very well. So I'm selectively breeding them into a strain that, one day, will dominate the Vvardenfell skies, pursuing its prey for great distances!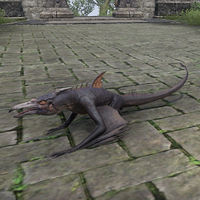 The Bitter Coast Cliff Strider is a young Cliff Strider that was previously available in the Crown Store for 00700700 

. It is also available as a Superior-level reward in Xanmeer Crates. Its default name is "Shrieky".
Occurrences
Edit