This article could benefit from an image
of:
Fully upgraded
See Help:Images for information on how to upload images. Please remove this template from the page when finished.
The Hearthfire Kagouti appears to be a sort of magical hybrid, a wizard's experimental melding of a carnivorous reptile and a flame atronach. The fact that they were first sighted in the Telvanni Grazelands lends this theory some credence.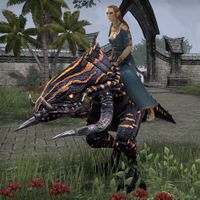 Hearthfire Kagouti
Mount
Type
Bipedal
Default Name
Emberscale
Acquired From
Crown Store
Price
4,000 
?  (discount)
Availability
May 25, 2017 - June 12, 2017
(?), 2019 - (?), 2019
The Hearthfire Kagouti was available from the Crown Store for 040004,000 

from May 25 to June 12, 2017. It returned during the Morrowind Celebration Event in 2019 and was offered to ESO Plus subscribers at a discounted 0000?? 

. Its default name is "Emberscale".
Occurrences
Edit