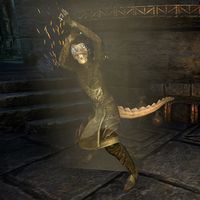 The Orb of Magnus was available to those who purchased either the physical or digital Collector's Edition for Greymoor. It is now available in the Crown Store for 021002,100 

as part of the Greymoor Collector's Pack.
Sunlight shines down on you, forcing you to cower and shield your face.
Occurrences
Edit
Appearances: 2
Greymoor Collector's Edition
Crown Store — Greymoor Collector's Pack
System Mail
Edit
Players who pre-ordered the Greymoor Collector's Edition received this correspondence in their in-game mailbox upon opening the game once the Chapter released.
Collector's Edition Digital Content
For purchasing The Elder Scrolls Online: Greymoor Collector's Edition, you have received these Collector's Edition bonus features:
• Crypt Warden Death Hound mount
• Death Hound pet
• Orb of Magnus memento
• Exclusive Emotes
• Swordthane Outfit Style
Your new mount, pet, memento, and emotes can be found in your Collections menu. Your new Outfit Style will appear, and is useable [sic], at Outfit Stations throughout Tamriel. Welcome to Greymoor!