Zone
Summerset
Location
Shimmerene
Loading Screen
Built piecemeal over two millennia, this subterranean labyrinth of fresh-water aqueducts, reservoirs, cisterns, waste pools, and drainage culverts has secret nooks and crannies unknown even to Shimmerene's sanitation engineers.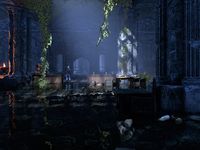 Shimmerene Waterworks is sewer system found underneath Shimmerene. The waterworks is separated into several sub areas including Shimmerene Aqueducts, Mirulon's Chamber, and Mother's Den. The Shimmerene Aqueducts is the larger area to the south and west and is a large cavern space. Mirulon's Chamber is at the end of the Shimmerene Aqueducts and can only be accessed by going through the cavern. The Mother's Den is a small enclave on the southern end of the waterworks where the Mother of Rats and her apraxic followers reside. Except for Mother's Den, all areas are inhabited by hostiles.
Related Quests
Edit
Inhabitants
Edit
Edgar Jend, Talerion, and Lanarie only exist in Mother's Den at the end of the related quest
Arathel actually enters the game in Mirulon's Chamber but flees to the waterworks as you enter the room. He then follows you to Mother's Den where he remains with his mother, Lanarie.
Hedani and Zan'hi leave the location after the related quest.