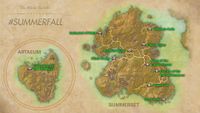 Discover all of the striking locales in Summerset.
Summerset Pathfinder is awarded for discovering all of the Striking Locales in Summerset and Artaeum.
You will gain access to Artaeum by completing the quest The Queen's Decree. If you want to get to Artaeum sooner, you can teleport to someone in your group or guild, or by exiting the Grand Psijic Villa player house.
Striking Locales
Edit