An unknown Argonian master of water magic equipped this underwater Xanmeer Manor with its own submerged picture windows that gaze out into the depths of a lush Murkmire lake.
Zone
Murkmire
Location
North of the Teeth of Sithis,
west of Root-Whisper Village
House Prices
Unfurnished
Unavailable (15,000 )
Furnished
Unavailable (17,500 )
House Stats
Type
Notable
Size
Manor
Style
Murkmire
Traditional Furnishings
350 (700)
Special Furnishings
5 (10)
Collectible Furnishings
55 (110)
Special Collectibles
5 (10)
Player Cap
24
House ID
64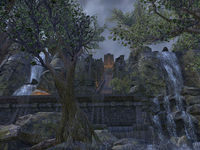 Lakemire Xanmeer Manor is a large xanmeer player house in Murkmire. The entrance is located within Deepmire, reachable by ascending the ruined steps at the northernmost edge of the area.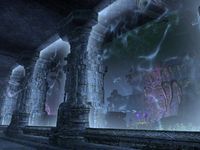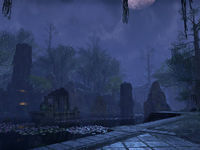 The house consists of extensive grounds with a central xanmeer pyramid. At the top is a trapdoor leading to the main underground chamber, which contains enchanted picture windows that provide a subaquatic view of the surrounding lake. A whirlpool found in the lake acts as an underwater shortcut to the main chamber, connecting to one of the picture windows.
It was first available from January 17 to January 31, 2019. It was available once more from April 15 to April 29, 2021.
Base Furnishings
Edit
Furnished
Edit
Includes the above, in addition to:
Achievements
Edit
There are several achievements associated with this house:
| Achievement | Points | Description | Notes |
| --- | --- | --- | --- |