When the Senalana Ayleids fled the Slave Rebellion that made humans the masters of Cyrodiil, they didn't go far, just a league or so into Valenwood. They assumed the vengeance of their former slaves wouldn't follow them across the border. They were wrong.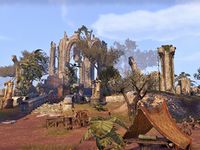 Senalana is an Ayleid ruin in northern Reaper's March, west of Arenthia.
Related Quests
Edit
Senalana Objective: Aid the Dominion troops at the Ruins.
A Door Into Moonlight: Discover if you truly are the Moon Hallowed.