Bronrod the Roarer

 (bronrod_the_roarer)

Home Town
Skaal Village
House
Bronrod the Roarer's House
Race
Nord
Gender
Male
Level
35
Class
Healer Service
Merchant
Gold
500
Mercantile
Novice (8)
Buys
Spells
Other Information
Health
184
Magicka
134
Alarm
0
Fight
30
Faction(s)
Skaal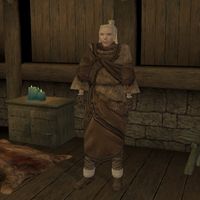 Bronrod the Roarer is a Nord healer located in his house in the Skaal Village. He sells potions, spells and ingredients. Bronrod is one of only four sources of spells with the Fortify Skill effect (the others being Crito Olcinius, Nerile Andaren, and Laurina Maria, all in Mournhold and added by the Tribunal expansion.)
He wears Nordic pants, Nordic shoes, a Nordic robe, a right Nordic glove and a left Nordic glove. He carries a Nordic Silver Mace.
Bronrod the Roarer has the following spells for sale:
Negative numbers indicate restocking items.
Items in bold are Leveled Lists. Click on them to learn more about what they may contain.