Events in 2017
Edit
Cyrodiil Performance Test and Double AP Event
Edit
February 27 — March 6
A double AP event was held on all platforms in early 2017. During this event, the rate at which players earned Alliance Points was doubled, but Champion Point bonuses were disabled in all PvP Campaigns. This was done to incentivize participation in a large-scale performance test, so that the developers could evaluate whether or not the Champion system was contributing to lag within Cyrodiil on the live servers. Players were also encouraged to post constructive feedback on the official forums about Cyrodiil performance during the event.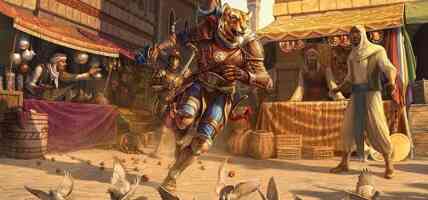 March 6 — March 20, 2017
To celebrate the one year anniversary of the Thieves Guild DLC release, a celebration was held in Hew's Bane and the Maw of Lorkhaj. During this event, the rewards from Heists were increased: flawed Heists gave the reward for perfect Heists, while perfect Heists gave double the crates. The rewards for killing World Bosses and delve bosses in Hew's Bane were also doubled, as were the number of Defiled Whiskers dropped in Maw of Lorkhaj. Regular nodes found in Hew's Bane yielded double the items.
March 23 — April 4, 2017
The inaugural Jester's Festival allowed players to obtain a 100% XP buff and the opportunity to acquire a collection of Jester-themed items. The festival also has a special quest associated with it, named The Jester's Festival, which repeats every year. A notable feature of the event is the inclusion of the Jester's Festival Box — special reward containers that grant players various event-themed items, including unique recipes, furnishings, or collectibles.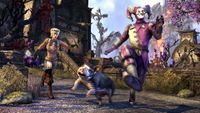 April 4 — April 18, 2017
The Three Year Anniversary Jubilee was identical to the previous year, but with the introduction of the Anniversary Jubilee Gift Box. These gift boxes could be obtained by completing daily or weekly quests during the event and had the chance to contain a vast number of items, including Crafting Motif chapters, Provisioning Recipes, Furnishings Plans and Crafting Materials. In addition, a new Jubilee Cake Memento for 2017 was granted to players.
Free Play Week
Edit
April 11 — April 18, 2017
The Free Play Week allowed players on all platforms to log in and play ESO without purchasing a copy of the game. During the event, the Tamriel Unlimited and Gold Edition versions of ESO were available at a discounted price, along with Crown packs and some items in the Crown Store. DLC content was still locked without purchasing.
Morrowind Early Access
Edit
May 22, 2017 — December
Before Morrowind's official launch on 6 June 2017, PC/Mac players who pre-ordered were given early access to the Chapter's content (i.e. the Vvardenfell zone, the Warden class, and various digital bonuses). This began on May 22, 2017, when Update 14 went live on the PC/Mac megaservers. Early access was available immediately to players who purchased Morrowind digitally; for those who ordered a physical edition, proof of purchase needed to be submitted via an online form. Players who availed of the form still needed to use the code that comes with the physical edition, or they would lose access to Morrowind 72 hours after launch.
ESO Plus Bonus Event
Edit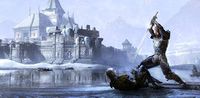 July 5 — July 9, 2017
The ESO Plus Bonus Event granted ESO Plus subscribers a free Dwarven Crown Crate for each day they logged in, to be delivered on July 17. Non-subscribers had the option of activating a free trial of ESO Plus from the Crown Store, which included all subscription benefits such as increased Gold and Experience and full access to DLC content for the duration of the event. However, purchasing full ESO Plus membership was required to earn the Crates or obtain subscription Crowns.
July 20 — July 31, 2017
The inaugural Midyear Mayhem event took place in celebration of a conflict known as Pelinal's Midyear Massacre. The event also has a special quest associated with it, also named Midyear Mayhem, which repeats every year. Upon completing this quest players receive the Scroll of Pelinal's Ferocity, which doubles Alliance Points gained for two hours. Another notable feature of the event is the inclusion of Pelinal's Midyear Boon Box, which have a chance to contain Transmute Crystals, PvP consumables, Alliance Motif chapters, Akaviri style items, Prismatic Runestones, Reagents, and Songs of Pelinal book furnishings. Alongside Midyear Boon Boxes, this event introduced a new collectible hat and title which could be earned by completing all the achievements associated with the event.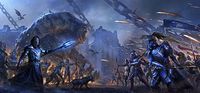 September 7 — September 18, 2017
To celebrate the two year anniversary of the Imperial City DLC release, a celebration took place in the Imperial City. The DLC was available at 50% off, and the Imperial City Collector's Bundle was made available again for 40% off. Drop rates were doubled for Tel Var Stones, Key Fragments, sacks from Cunning Scamps and Trove Scamps, and collectibles from the Simulacrum of Molag Bal.
Reaper's Harvest Crown Crate Preview
Edit
September 22 — September 24, 2017
This short event served as a preview for the Reaper's Harvest Crown Crate Season. During this event, players could log in each day of the event and kill any enemy (excluding PvP) in order to earn a free Reaper's Harvest Crown Crate, to be delivered on September 27. Up to three free Crates could be earned in this manner. Reaper's Harvest Crates became available purchase from the Crown Store one day later, on September 28.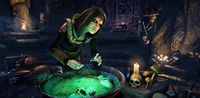 October 20 — November 1, 2017
The Witches Festival 2017 was similar to the previous year. The event featured the chance to earn Plunder Skulls by defeating delve bosses, dungeon bosses, World Bosses, and dolmen bosses. Drops from Plunder Skulls included Hollowjack Motif chapters, special themed recipes, and furniture. New additions this year included two new hats and a selection of furnishing schematics and items.
Xbox ESO Free Play Days
Edit
ESO was free to play on Xbox One from November 2 to November 6, 2017 as part of the Free Play Days event.
November 16 — November 27, 2017
To celebrate the two year anniversary of the Orsinium DLC release, a celebration was held in Wrothgar. During this event, the rewards from both Wrothgar daily quests and Maelstrom Arena were doubled. Regular nodes found in Wrothgar also provided double the items. The DLC was 75% off in the Crown Store, and the original Orsinium DLC Collector's Edition was made available again at a discounted price.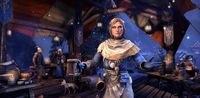 November 30 — December 6, 2017
The Ten Million Stories event took place to celebrate ESO reaching the 10 million players milestone. It introduced Mysterious Reward Boxes, which were rewarded for completing Random Dungeon Groups. Rewards from theses boxes included Dye Stamps, Crown Repair Kits, or Crown Mimic Stones, Treasure Maps, Transmute Crystals, or Crown Experience Scrolls. Rarely, Costumes, Pets and even Mounts from a curated selection of both past and new Crown Store collectibles were possible. Jackpot prizes were bundles of 20 homes or 20 mounts. The following year the event was re-branded as the Undaunted Celebration Event.
December 14, 2017 — January 2, 2018
The New Life Festival 2017 featured double experience points, the chance to earn Skinchanger Motif chapters, furnishings and other features from the previous year. New additions this year included new furnishing items and runebox mementos.
Holiday Events
DLC Events
Special Events
Other Events
By Year