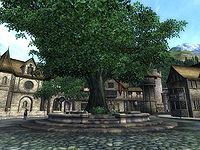 Chorrol is a town in northwestern Cyrodiil, between the Great Forest of west Cyrodiil and the Colovian Highlands of the Hammerfell border.
For more information about Chorrol, see the lore article.
Quests Starting Here
Edit
Related Quests
Edit
It is possible to climb over the walls and out the city. See this for details.
Sometimes when entering Chorrol, the entire southwest portion of the city walls and the nearby shacks will be permanently and completely missing. This allows exiting the city limits, but otherwise has little impact on gameplay.

One possible fix is to fast travel far away, such as Cheydinhal's Black Waterside Stables. Another is to reload from before entering Chorrol and triggering the bug.
Key:

1. Gate to the Great Forest
2. Northeast Wall Tower
6. Castle Chorrol Arch Tower
7. Castle Chorrol Great Hall
8. Castle Chorrol Wall Tower North View
9. Castle Chorrol Barracks
10. Castle Chorrol Wall Tower East View
11. Northwest Wall Tower

28. Southwest Wall Tower
29. Chorrol Castle Gate Tower
30. Gate to the Great Forest
31. Chorrol Castle Gate Tower
32. The Grey Mare
33. Southeast Wall Tower