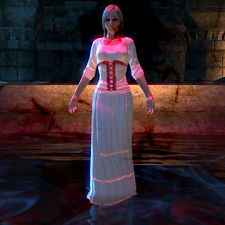 This article is about NPCs who are vampires. For the disease's effects on the player, see Vampire.
Vampires are NPCs afflicted with Vampirism. The disease causes them to physically change, giving them pale pigmentation and glowing eyes. Vampires are blessed with supernatural powers but their condition makes them vulnerable to fire damage abilities such as Vampire's Bane. Their powers include mist form and the ability to summon bat swarms.
Vampires can be found across several zones, but they're most populous in Rivenspire, Western Skyrim, Blackreach and The Reach.
For more information, see the main lore article.
There are some vampire groups with known names, as well as unnamed covens based in particular areas. This is a list of named factions; for more groups, see the tables further down the page.
Locations
Edit
Related Quests
Edit
Friendly/Neutral Vampires
Edit
‡
Depending on quest choices
Hostile Vampires
Edit